Buying a keyboard can become a daunting task; From mechanical vs non-mechanical, RGB vs non-RBG, wireless vs wired, etc. There are several factors to consider when purchasing a keyboard that you will use on a daily basis. This article will show you the best gaming keyboards under 100.
Overall Best Pick
SteelSeries Apex 5 Hybrid Mechanical Keyboard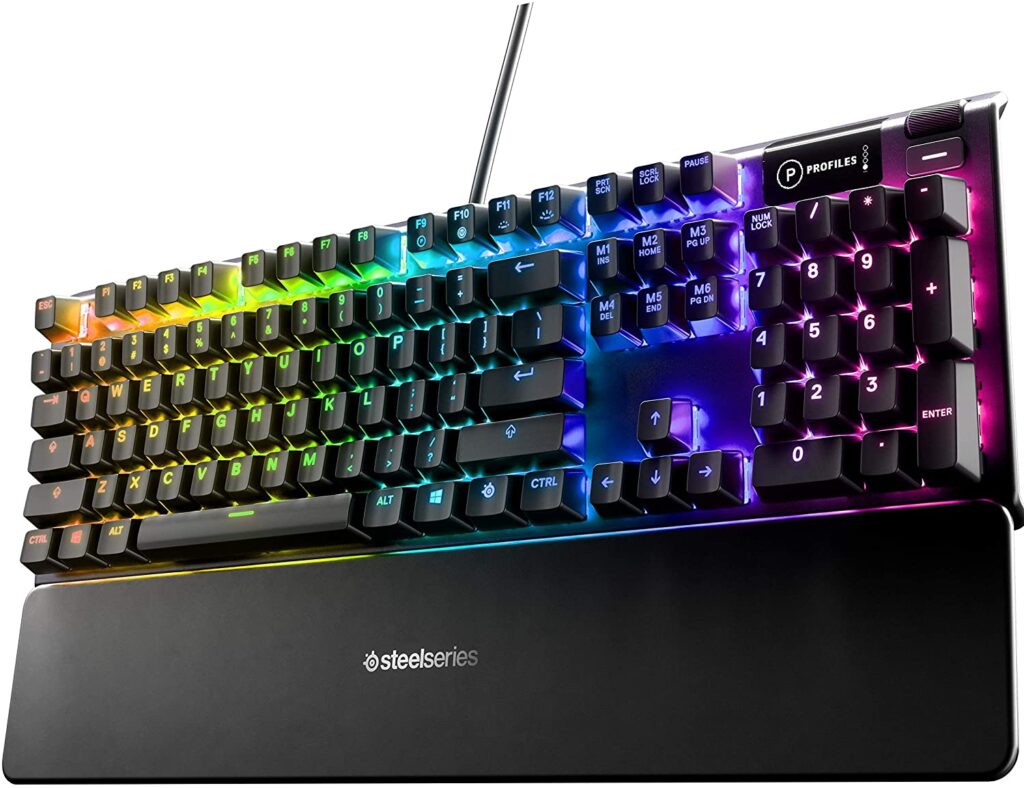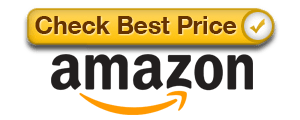 The SteelSeries Apex 5 Hybrid Mechanical keyboard is our best pick due to the price, quality, and keys. Built for gaming, this keyboard combines the performance and feel of a mechanical keyboard with the durability and convenience of IP32 water resistance. Unfortunately this keyboard does not come with dedicated macro keys for MMO players. However, it comes with a magnetic wrist wrest, OLED display, and RGB backlighting. This keyboard is ideal for users who game, but also need a reliable keyboard for work or school.
| | |
| --- | --- |
| PROS | CONS |
| ✓ Overall high quality build. | ✘ No dedicated macro keys for MMOs. |
| ✓ Easy-to-use RGB lighting. | ✘ Higher latency for a gaming keyboard. |
| ✓ Macro-programmable keys. | |
| ✓ Water resistant for accidental spills. | |
Best Wireless Gaming Keyboard Under $100
Corsair K63 Wireless Mechanical Gaming Keyboard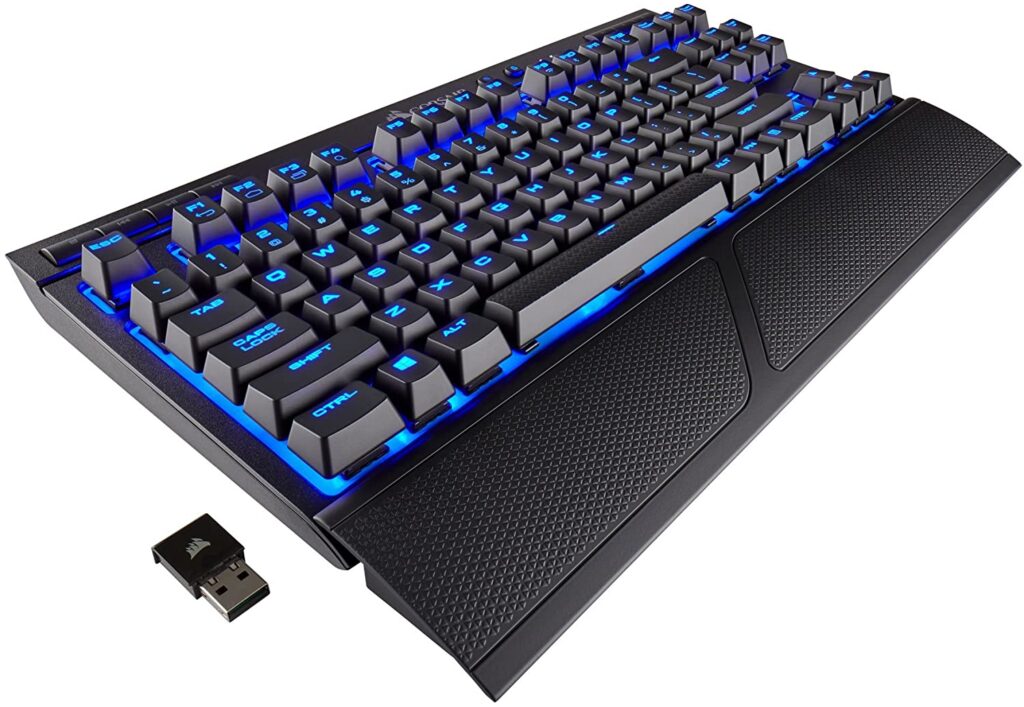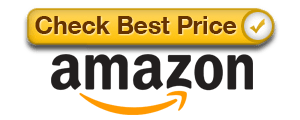 The Corsair K63 is one of the fastest wireless mechanical gaming keyboards offering ultra-fast 1ms 2.4GHz wireless technology with Cherry MX red mechanical key switches. This keyboard does not have RGB functionality, but makes up for it with dedicated media controls, multi-device pairing, and low latency. The battery life of this keyboard can last up to 75 hours with the lights off, and around 15 hours with the LED lights on. Although we are not impressed by this result, the K63 still makes it as one of the best gaming keyboards under $100.
| | |
| --- | --- |
| PROS | CONS |
| ✓ Dedicated media controls. | ✘ No onboard memory. |
| ✓ Overall low latency for wireless. | ✘ Poor battery life with backlight enabled. |
| ✓ Multi-device paring. | ✘ Can't change lighting color. |
Cheapest Gaming Keyboard Under $100
HyperX Allow Core RGB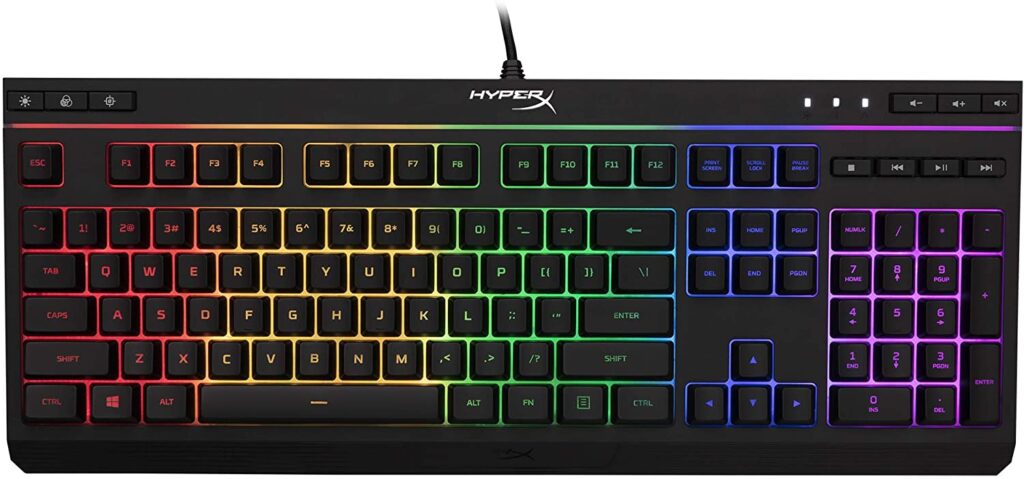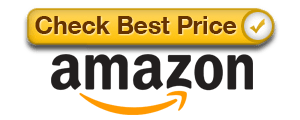 The HyperX Alloy Core RGB is a non-mechanical keyboard with comfortable quiet keys and RGB LED lighting. Although the keys may not be the most comfortable or silky smooth to use, they offer anti-ghosting technology, dedicated media buttons, and a flexible braided cable. They Alloy Core RGB is also spill resistant up to 120ml of liquid, and features a reinforced plastic frame. Coming in around $50, this keyboard is hard to beat for gamers on a budget.
| | |
| --- | --- |
| PROS | CONS |
| ✓ Plug-and-play compatibility. | ✘ No software support for customization. |
| ✓ Dedicated media controls. | ✘ Poor build quality – Full plastic design feels cheap. |
Gaming Keyboards to Avoid
In general, it is strongly encouraged to stay away from Razer gaming products. In the $100 price range you may see the Razer Cynosa, Ornata V2, or even Huntsman on sale. This company has definitely built a brand for itself over the last decade, but with their required software (basically bloatware), delayed tech support, and low quality products, gamers should try to keep away.