Whether you are noticing poor wireless internet speeds, or want to invest in a more secure network, you may find yourself looking to upgrade your home router. Purchasing a new router can provide the latest features, upgraded security, and can even resolve some latency issues. Through extensive research, we have come up with our picks for the best router under $100 in 2022.
What is a Wi-Fi Router?
Before pulling the trigger on any of the devices outlined below, it is important to first understand what you are buying. A router is a device that provides Wi-Fi and is typically connected to your Internet Service Provider's modem. It allows your wireless devices, such as phones, laptops, tablets, etc. to connect to the internet. Routers differentiate by their bands, security, and generation (more about this in our How to Choose the Best Wi-Fi Router article). A key take away is that you want to look for an AX router to benefit from the latest technology (Wi-Fi 6) and security (WPA3).
Overall Best Pick
TP-Link Archer AX21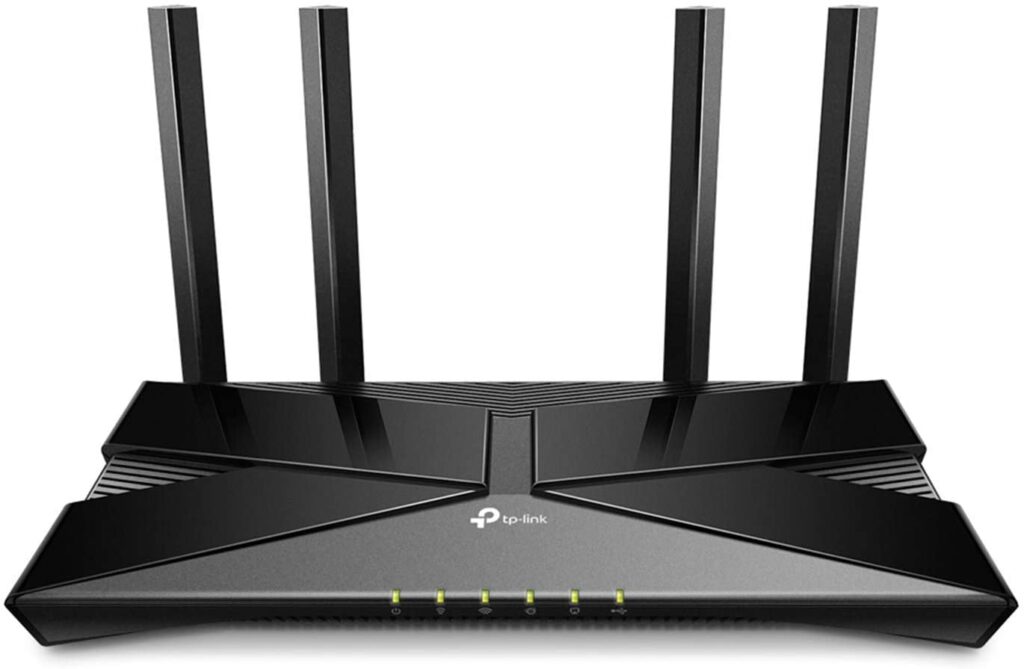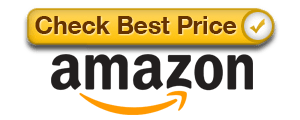 Equipped with the latest wireless technology, the Archer AX21 is our best overall pick under $100. This AX1800 provides 1.8 Gbps combined speed with a 1.5 GHz quad-core CPU. We recommend this router for small to medium size homes or apartments, with the ability to connect to over 40 devices at the same time. It offers four spare LAN ports and a USB 2.0 jack for connecting local storage or a printer.
| | |
| --- | --- |
| PROS | CONS |
| ✓ Excellent value for WiFi 6 | ✘ LAN ports capped at 1Gbps |
| ✓ Plenty of options to customize your network | ✘ Poor coverage for large homes |
| ✓ Supports OneMesh for expanding your network | |
Overall, this devices offers all of the necessary features for a household looking to take advantage of WiFi 6 and WPA3 technology. For just under $100, the Archer AX21 is budget friendly and TP-Link didn't cut any corners providing a reliable home network. Although it is not meant for large families, this dual band device is capable of providing plenty of power for small households looking to stream movies and enjoy online gaming.
Second Best Router Under $100
NETGEAR R6700AX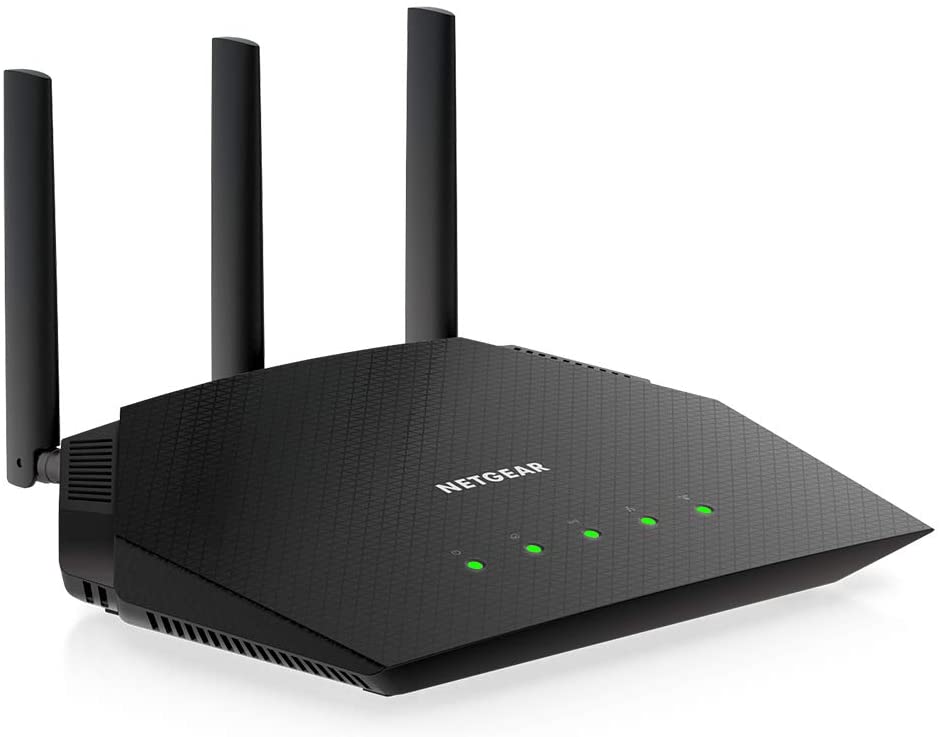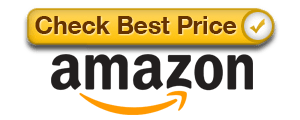 The Netgear R6700AX is another reliable AX1800 router. On sale, it can be found for just $99 through Amazon. Similar to the TP-Link Archer AX21, this device offers 802.11ax (Wi-Fi 6) technology with improved transmissions that are about 30% faster than Wi-Fi 5. The device is advertised to cover up to 1,500 square feet for 20 devices, which makes this a perfect solution for small to medium sized homes or apartments.
| | |
| --- | --- |
| PROS | CONS |
| ✓ Excellent value for WiFi 6 | ✘ No USB port |
| ✓ Four Ethernet LAN ports | ✘ No mesh expansion support |
| ✓ Quick setup with Netgear app | ✘ Slightly higher latency compared to the AX21 |
As illustrated in an article written by Ry Crist on CNET, the Netgear R6700AX and TP-Link Archer AX21 are very similar in average download speeds.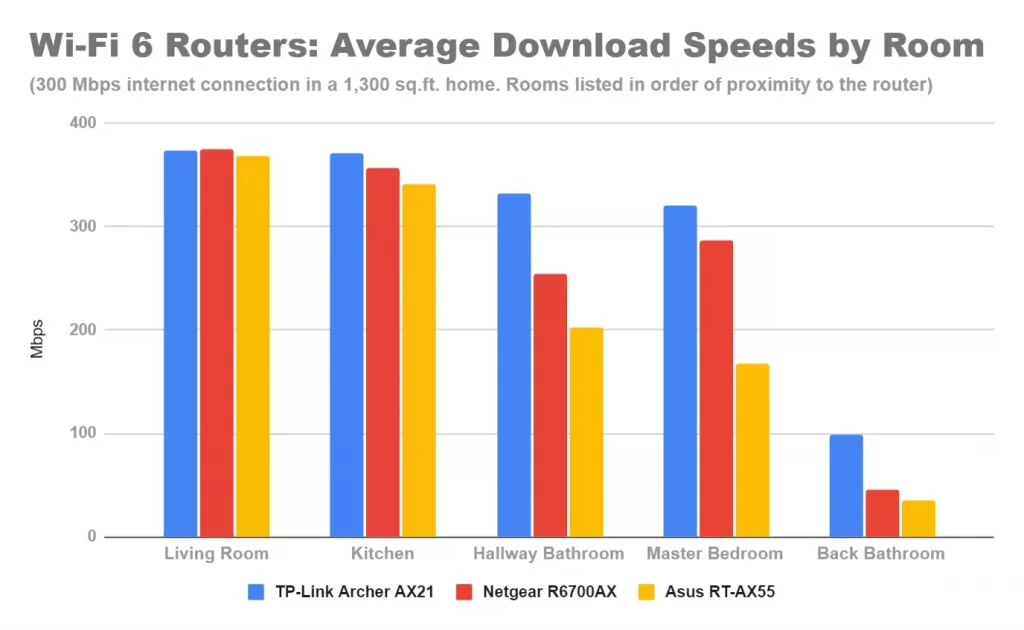 Although it is evident that the TP-Link Archer AX21 (blue) outperformed the Netgear R6700AX (red), the results were comparable. If you are on a budget, it may be best to find which of these two devices are on sale at the time, and go for the lower price.
The 6700AX is still able to provide a solid network for small to medium sized homes. Although their app is filled with ads and subscription services, there are some useful tools to quickly set up and get the most out of your home network.
Cheapest Microphone Under $100
TP-Link Archer A7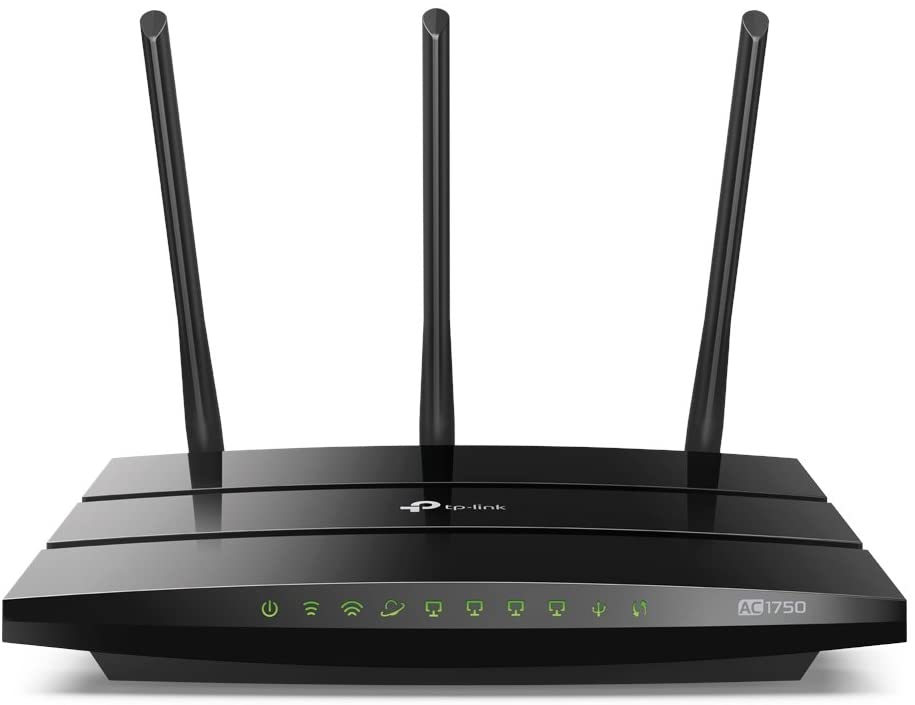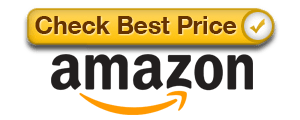 When asking for the best router under $100, several consumers want to find the cheapest solution possible. Meet the Archer A7, which is one of the best selling routers on Amazon. Retailing for just $79.99, this small device can often be found on sale for around $50. Inside, the Archer A7 is powered by a 750 MHz processor and 128MB of RAM. It offers dual-band coverage, with a combined bandwidth of up to 1750 Mbps.
| | |
| --- | --- |
| PROS | CONS |
| ✓ Low cost | ✘ Lacks customization and additional features |
| ✓ Reasonable performance | ✘ Limited range |
| ✓ USB expandable storage | ✘ Dated technology |
Although the Archer A7 does not provide Wi-Fi 6 technology or WPA3 security, it is guaranteed to work with most of your current devices. Utilizing Wi-Fi 5 and WPA2 means that older devices shouldn't have an issue connecting to the network, and it is still very secure. Unfortunately the Archer A7 does not provide a long range connection, and is best for small homes or apartments.