When running a variety of apps on an Android phone, you may notice your phone acting sluggish and slow. This is often due to apps taking up system resources like your CPU and RAM. Even if you close these applications, sometimes they will continue to run in the background using your location, mobile data, and battery life. If you are looking to optimize your Android phone, you can use the app hibernation technique. In this article, we answer "What Does Hibernate Apps Mean?", and the best way to increase your Android phone's battery life.
What Does it Mean to Hibernate Apps?
Hibernating apps means that you remove specific apps from utilizing your phones main memory. This essentially pauses the app in its last state, to be used at a later time. This could have a significant effect on battery life and the phone's overall performance.
In hibernation mode, apps are in an idle state and stop functioning in the background of your Android system. They do not use any resources, and free up CPU, RAM, and battery usage for other apps that you wish to utilize.
How Do I Hibernate Apps?
Using a third-party application such as Greenify, Naptime, or Brevent, users can easily hibernate their apps and free up system resources.
In this example, simply install Greenify and follow the step by step instructions when you first launch the app. When asked if your system is rooted, basic users should select "No", or "I'm not sure". Once installed, simply click the plus icon in the bottom right corner!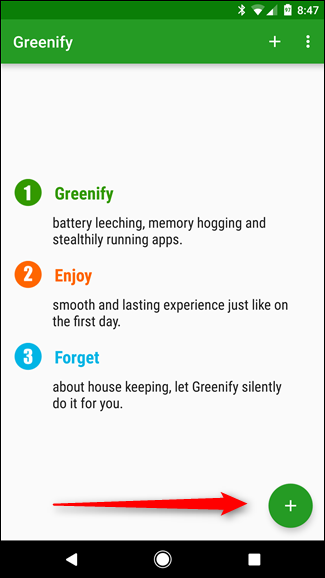 Next, the App Analyzer will run and show you which applications are currently running in the background. Go through the list and select the apps that you'd like to hibernate when not in use. Once complete, follow the navigation in the bottom right corner of the screen.
Conclusion
By installing Greenify, or your favorite hibernation app alternative, users can simply hibernate apps that are using system resources in the background to help speed up your device and increase battery life. Let us know in the comments below if this article helped you, and if you have any other useful android hibernation tips.